Your shopping cart is empty.
Login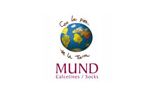 Mund Socks
Mund Half-Skiing, socks for skiing. Structure of low density, and additional support of Lycra ®.
Calcetín Mund Kilimanjaro de montaña fabricados con fibras técnicas especiales de alta tecnología como COOLMAX®.
( Mund Trail Running carry a high percentage of Coolmax for maximum breathability of the foot, the socks Mund Trail Running are made for trail running but end.